The Story of Ellen Wright
On 30th December 1882, Ellen Huxtable, of Berrynarbour in North Devon married Sandford blacksmith James Wright. Twenty-four year old Ellen was the daughter of farmer and churchwarden John and Harriet (née Perrin) Huxtable. Less than a month after the wedding Ellen was incarcerated in Exeter Prison, (
right
) where she would give birth to her first daughter. How did this newly married woman, from a respectable family find herself in such circumstances?
Around the time of their marriage husband James left the family business and moved to Swansea where he was working as a blacksmith, leaving his new bride with her parents. There were several Huxtable family members working in South Wales. Perhaps this prompted James to seek work there too. In any event his absence seems to have greatly upset his new wife. Did she know she was pregnant when he moved there or did the discovery contribute to her subsequent behaviour? What is certain is that she suddenly became desperate to be with her new husband. And this desperation drove her to a foolish crime.
On 19th January 1883 she cashed a forged cheque for £30 (the equivalent of perhaps £1400 today) at the National Provincial Bank in Ilfracombe. Her actions were muddled, and betrayed an ignorance of the banking system. She was bound to be apprehended, and she was, almost immediately. She made no attempt to deny her crime. She claimed that nobody else had been involved, and that she needed the money to join her husband in Swansea; she had already sent her husband £2.
She appeared before Ilfracombe magistrates the next day, and was remanded to the County Assizes in Exeter the following week when she appeared before Mr. Justice Grove (
right
). A medical certificate confirming the prisoner's pregnancy was presented. The prosecuting counsel said that before the offence the prisoner had borne a most irreproachable character and the officials of the National Provincial Bank would be glad if the judge could pass a merciful sentence. The judge said there had been a number of forgery cases that day, which suggested sentencing in the past had not been sufficiently severe. Clearly of the view that he was being lenient, he sentenced Ellen to 6 months imprisonment with hard labour. The Nominal Register for Devon County Prison, Exeter records that Prisoner 860 Ellen Wright had two cuts across her left wrist. We can only speculate as to how she got those. Daughter Lilian was born to Ellen Wright on 19th May 1883 in HM Prison, Exeter.
Ellen and Lilian joined James in Wales after her release. By this time James was working as a signal man on the railway. A second daughter Florence was born in Cardiff in 1886 and a son Arthur was born in 1888. But sadly around this time the family broke up. James lost his job and Ellen left him for another man. Ellen and son Arthur moved to Newcastle with her new partner, Ernest Frayling. The daughters were brought up by their grandmother in Sandford. James reappeared in the 1901 Census working as a railway porter in Bradford, Yorkshire. He died there in about 1928.
His daughter Florence had joined him there in the early years of the 20th century. She married plumber Fred Rothera, and raised a family in Yorkshire. Daughter Lilian who had such an unhappy birth, went into domestic service in Muswell Hill, North London, and seems never to have married. But Ellen went on to have a daughter and two sons with her new partner, and son Arthur stayed with his mother and step family. Ernest Frayling died in 1899. Ellen brought her family up in Newcastle and Liverpool. In 1919 daughter Maud emigrated to the USA. In 1924 Ellen, her two sons and their wives and her grandson sailed to the USA to join her daughter; they all settled in Massachusetts.
Her son Arthur Wright remained in Liverpool for the rest of his life, where ironically, for many years he was a police constable. Ellen became a naturalised United States citizen in 1938. One wonders how she looked back on her six months of prison in 1883. Did she stay in touch with the daughter that she bore there? She died in 1939 and is buried in Malden, Massachusetts. And Ellen's story was finished here thanks to her descendants who live there still.
George Bubear - Champion Fraud
At the end of his sporting career, cousin
George Bubear (1859-1927)
- professional sculler and twice Champion of England - seems to have fallen prey to the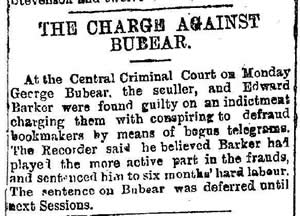 temptations of "easy money". At his peak he had won £500-£600 in prizes per year, at a time when the average wage was about £50 per year. No doubt his backers took the lion's share of the prizes, but George must have been comfortably off , not least because he was also working as a Licensed Victualler for much of his career. Over the years there had been several barely veiled accusations in the Press that some of George's races had been fixed - probably a common occurrence in those days, in a barely regulated professional sport where enormous sums of money were gambled. So it is likely that George was not averse to sharp practice where money was involved. Perhaps he saw the opportunity presented to him in 1898 as no more than an extension of match fixing. Though it must be said that several victims of his fraud bore witness to his previous upright character during the trial.
The fraud was quite a complicated one, but essentially was a variation on the
past-posting
scam operated in
The Sting
. George was persuaded by bookmaker's clerk Edward Barker to make arrangements with several bookmakers to place bets by telegram. Barker, aided by George or other accomplices, would visit a number of post offices and hand in a batch of 15 or 20 telegrams, asking that they be time stamped and sent as soon as possible. After the post office clerk had time stamped and then started to send the batch (which would take the clerk some considerable time to code) Barker or George would interrupt and ask for the unsent telegrams to be returned to them on the pretext of making a correction. The telegrams were addressed to bookmakers, containing bets that George was placing on races that were about to start. The names of the horses had been left off the last telegrams in the batch. A confederate would determine by telephone which horse had won the race, and pass the name on to his colleagues in the post office. The winning horse's name was inserted in the telegrams. These were then returned to the post office clerk and were sent stamped with the earlier time. In theory the clerks were supposed to start the whole process again with a different time stamp when the sending of telegrams had been so interrupted, but in practice they either did not know the procedure or felt it to be too onerous. The first telegrams in the batches, sent on time, were bogus. The doctored telegrams arrived late, but the time stamp indicated that they had been sent before the race started so they appeared legitimate.
Some of the bookmakers paid up. Most were suspicious of the long delayed arrivals of the telegrams, often thirty or forty minutes after the end of the race, and after the stamped time. Several challenged George, so he backed off and would not take any winnings if they thought there was something wrong with the bets "but there are two or three of us in the syndicate, and I have already paid the others so I will lose out". But he seems to have lost his nerve when suspected. Several of the bookmakers were not content with that, and reported their suspicions. In consequence on George and Barker were arrested in June 1899 and sent for trial at the Old Bailey.
The case was heard at the end of October, and both men were found guilty, Barker being sentenced to 6 months with hard labour, and the sentencing of George deferred. A clergyman and the Kingston MP, Mr. Skewes-Cox, spoke as character witnesses for George. The latter said that he had known Bubear for 10 years and that he was a man of excellent character and a very simple-minded man. The MP was sternly rebuked by the Recorder who said that as a solicitor he should know better than to abuse his position as an MP by giving testimony that was contrary to the rules of evidence (that George was a simple-minded man). He had no right to come there to champion a constituent. George was sentenced in November 1899 to three months imprisonment with hard labour.
The North Devon Savages

Great-Great-Great Aunt Harriet Frost had some strange daughters-in-law. They were members of the disreputable Cheriton family from the tiny parish of Nymet Rowland, who were characterised as the infamous North Devon Savages. In 1869, a letter to the Times described their "Heathenism in Devon" -"the manner in which these people live is of the rudest, coarsest, and even savage-like character". The family were labeled "a terror and an abomination" to the district. Over the years they were to be the subject of much Press coverage, both national and local, and their activities were brought to the attention of the Home Secretary. Patriarch of the family was farmer Christopher Cheriton, owner of Upcott, some 40 acres of freehold land. Christopher and his common law wife Mary Ann Bragg had flouted conventional standards by having their four children out of wedlock, though that was common enough. According to one account Christopher had rejected conventional mores after being spurned in love. The mate with whom he spent his life seems to have supported him in his chosen lifestyle. By about the mid 1850s the Cheritons had embarked on a course of extreme social degradation. The family comprised Christopher and Mary Ann, and children William, Charlotte, Eliza and Matilda, and at the height of their reign of terror there were grandchildren in their early teens and a clutch of babies. In a nearby parish, "on Whitestone Hill", Tedburn St Mary, was Christopher's brother Elias, living in an old barrel.

In 1854 Christopher appeared before the magistrates on a charge of assault. This seems to have been the first appearance in court. But over the next 25 years, members of the family were to appear before the courts over 65 times. They were charged with assaults, petty theft, poaching, non-payment of rates, allowing animals to stray (they weren't too fussy about whose land their livestock grazed on). Poaching in particular was a serious offence in those days, and when, in 1869, son William and friend George Bradford alias Tancock (who was to partner Charlotte) were convicted under dubious circumstances, they briefly became a cause celèbre, prompting debate in the national Press. Mary Ann, Eliza, Matilda, Charlotte and William all served prison sentences over the years, some several: all the family were fined on numerous occasions.

But this was not just a criminal family. Indeed many of the charges brought against them were dismissed. It was their general lifestyle that marked them out. Their clothes and persons were unkempt and unwashed. They lived in a hovel, in filth and squalor, in a kind of barn, with their animals. A contemporary account in 1874- "The building is not large, ... originally a farm-house, a granary, or merely a cow-house. It is perhaps forty feet long by twenty-five feet wide; its walls are apparently a mixture of lime, mud, and pebbles, and very thick; and the thatched roof is surmounted by a wide-mouthed chimney-opening, partly blown down. ... There are several apertures, designed and accidental; but the main opening...is a jagged hole about seven feet high and five wide, into which, by way of window blind, ragged bundles of straw are piled...the ground floor of the hovel is at once the living-place, the cooking-place, the pig-sty, and the sleeping-place. Not a single article of furniture is contained within it; there is not even a bedstead. The family bed, on which repose savage old Christopher, Willie his middle-aged son, the old woman, the three strapping daughters, the big boy and the big girl, and the smaller fry, including the horrifying baby or babies, consists of an accumulation of foul straw, enclosed within rough-hewn posts driven into the earth."

Several accounts make reference to acts of vandalism against, and verbal abuse of their neighbours. There was a long-running feud with some of the local farmers. Landowner John Partridge took Mary Ann and Eliza to court for stealing turnips, and there seems to have developed a particular antipathy against Partridge and his family. In the same vein the family were extremely hostile towards the local parson - the Reverend Temple - whom they cursed roundly at every opportunity, abusing him and his new wife as they walked around the village. The family were foul-mouthed, abusive and aggressive. They regularly worked in their fields in semi-nudity, the old man often wearing just a loin cloth, the women little more. Predictably it was their sexual immorality that outraged most Victorian commentators. The contemporary belief , implied in a number of articles and letters about the family, was that the children of the several daughters were the incestuous offspring of the males of the family, who all shared the communal bed. Between the three daughters there were at least eight children born without named fathers between 1855 and 1871. Witnesses declared that no men outside the family were known to have visited the daughters. Nonetheless given the condition in which they did their field work there can be no certainty about the bastards' parenthood.

The women were regularly described as being coarse, with the voices of men. Brother William was a big man, with matted whiskers and a long beard, and the sight of him was intimidating. He is said to have pursued a stranger through the country with an axe for nearly a mile! One day William was seen driving a horse whose collar he had decorated with the entrails of a sheep! It should not be thought that the family were impoverished. Their land, their animals - at various times 4 horses, 29 sheep, pigs, 2 or 3 cows, 2 bullocks, 6 ducks - meant that they were much better off than agricultural labourers. But they chose to do no more than exploit their land and livestock on a subsistence basis only. With theft and extortion to supplement that.



The 1851 census shows the Cheriton family living at Upcott, their property at Nymet Rowland

Whilst it is evident that this was a wild, unconventional and lawless family, they seem to have been courteous to strangers who meant them no harm. And according to the pastor of the Independent Chapel in Lapford, they were frequent attenders there for worship. When the Rev Temple had been replaced as the incumbent of Nymet Rowland by the Rev Gutteres, it was reported that the family donned their Sunday best and worshipped at the parish church. (This apparently did not prevent them from allowing their animals to graze on the Rev Gutteres' tennis lawn, ruining it for the summer).

Perhaps not unsurprisingly their behaviour incited aggression in return - in 1878 four men were summonsed for stoning the Cheritons' house for over two hours. In 1879 a rick of wheat belonging to William was burned. Some of the charges against the family even appear to have been trumped up with the collusion of the constable, no doubt at the instigation of the local landowners, including John Partridge. In the 1870s there seems to have developed a concerted effort to rid the parish of the Cheritons. Unnecessary really, as Time intervened. Despite their numerous illegitimate children, one by one the daughters left home to set up house with a partner, or to get married, each adding several children to their family with their partners. Charlotte moved out of the family bed pit initially to set up home with George Bradford alias Tancock in a nearby hay rick! Willoughby Farley - son of Matilda - was eventually to marry my second cousin 3x removed Mary Ann Drew. G-g-great aunt Harriet Frost was the stepmother of Eliza's husband John Drew, and mother of the husbands of two of Charlotte's daughters. (The convoluted sexual relations continued through the generations when John, a base son of Charlotte, married a daughter of Matilda, in 1890, by then called Virginia Farley after her stepfather. The bride was to die within 3 months. Ostensibly cousins, who knows who their father(s) was or were, though in all probability John was the son of George Tancock.) In 1880 matriarch Mary Ann (described as a foul-mouthed hag) died of bronchitis. Son William seems to have set up home with a partner Bessie in Zeal Monachorum. Now an old man, Christopher left the parish to live with one or other of his married daughters. By the 1881 census all the savages had left: no Cheritons were living in Nymet Rowland.

This article from the Victorian Press is fascinating. How true is it one wonders?



Download a catalogue of the cases against the Cheritons.